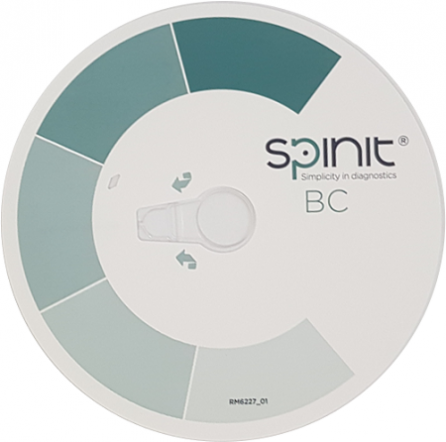 spinit

®

BC
smooth your decision process
The spinit® BC disposable disc is used with the spinit® instrument as a quantitative assay for total white blood cells and 5-part differential counts.
About WBC
A differential blood count measurement can better direct your decision-making process. It can help physicians to give faster and and more accurate diagnosis to their patients and therefore reduce the length of stay and flow of people in the primary care and emergency departments.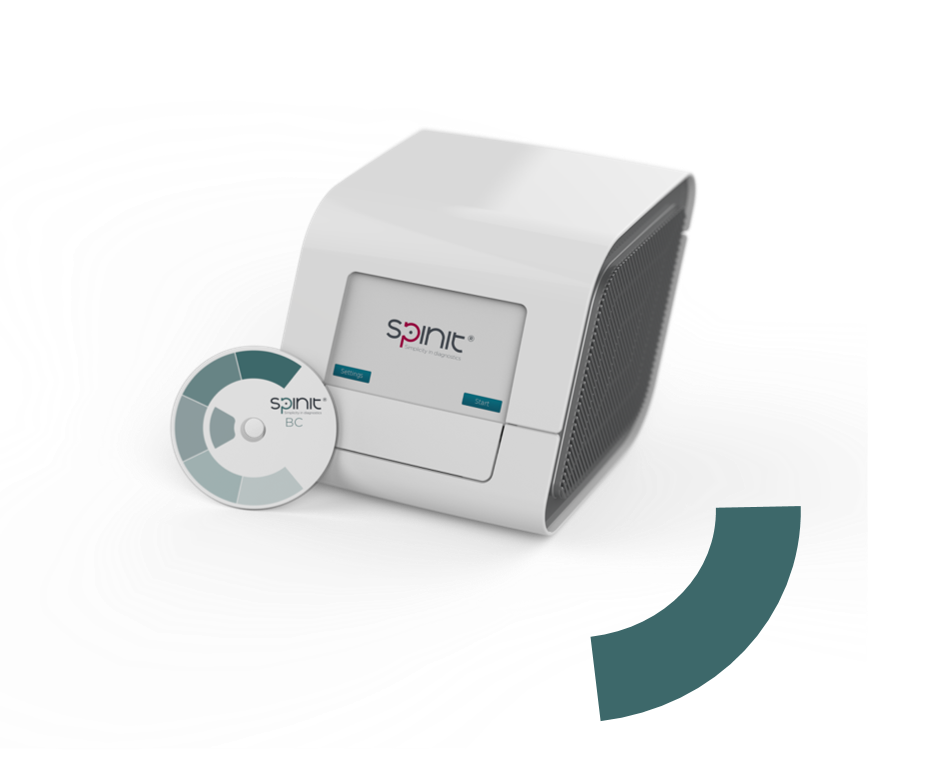 Technical Data
Sample volume:
8 µL
Sample material:
whole blood-venous (EDTA) or capillary
Storage:
Room Temperature (15 - 30ºC)
Expiry date:
12 months
Assay time:
7 min
Kit size:
20 tests. Separately packed discs
A White Blood Cell (WBC) count can detect hidden infections within the body and act as an alert to undiagnosed medical conditions, such as autoimmune diseases, immune deficiencies and blood disorders.
WBC reference range
Leucocytes
4.0 to 10.0 x 10(9) / L
Neutrophils
2.0 to 7.0 x 10(9) / L
Lymphocytes
1.0 to 3.0 x 10(9) / L
Monocytes
0.2 to 1.0 x 10(9) / L
Eosinophils
0.02 to 0.5 x 10(9) / L
Basophils
0.0 to 0.2 x 10(9) / L
Specialised Consultative Care
Hospital Care
The Emergency Room is the primary setting for undifferentiated, unscheduled patients with illnesses or injuries requiring immediate medical attention. Due to the unplanned nature of patient attendance, the department must provide initial treatment for a broad spectrum of illnesses and injuries, some of which may be life-threatening and require immediate attention. In some countries, emergency departments have become important entry points for those without other means of access to medical care.
Having the power to know a patient's general condition in a fast and accurate way is paramount for the effectiveness of treatment and can be key to saving someone's life. Also, having the ability to continuously monitor a patient in need, can also help the effectiveness of the treatment given to the patient.
With the spinit
®
products you can find quickly and accurately your patient's key medical status indicators (CRP, blood panel, etc), so you can provide the best treatment to your patient needs.
Primary Care
Primary health care is the first point of contact for health care for most people. It is mainly provided by GPs (general practitioners) but community pharmacists, opticians and dentists are also primary healthcare providers. Typically, this provider acts as the first contact and principal point of continuing care for patients within a healthcare system, and coordinates another specialist care that the patient may need.
Since these professionals are met with a wide range of patients suffering from a variety of diseases, knowing the key medical parameters in a fast and accurate manner can help to provide the best medical treatment the patient requires, while helping diminish the need for unnecessary drugs, such as antibiotics in viral infections. Also, having the ability to perform these tests in a fast and timely manner, allows instant monitoring and adjustment of treatment.
With spinit
®
products you can find quickly and accurately your patient's key medical status indicators (CRP, blood panel, HbA1c), so you can provide the best treatment to your patient needs.
Specialised Consultative Care
Specialised consultative health care is usually for inpatients or patients referred from a primary or secondary health professional, in a facility that has personnel and facilities for advanced medical investigation and treatment. Such speciality care encompasses Diabetology, Endocrinology, Paediatrics, among others.
The healthcare professionals are met with very specific forms of diseases, specific types of patients or patients who require continuous monitoring of a pre-existing disease, such as diabetes.
With our spinit
®
products you can rapidly and simply know your patients HbA1c (spinit
®
HbA1c), at consultation so you don't have to wait several days for test results to start or change therapy. Also, with spinit
®
CRP you can know in under 4 minutes the c-reactive protein value of your patients and, with the spinit
®
BC test, you can rapidly know a 5-part differential (lymphocytes, neutrophils, monocytes, eosinophils and basophils) and haematocrit, so for patients who require special attention (e.g. Infants) or patients with mobility difficulties, you can have a fast a reliable means to know the best treatment to provide.