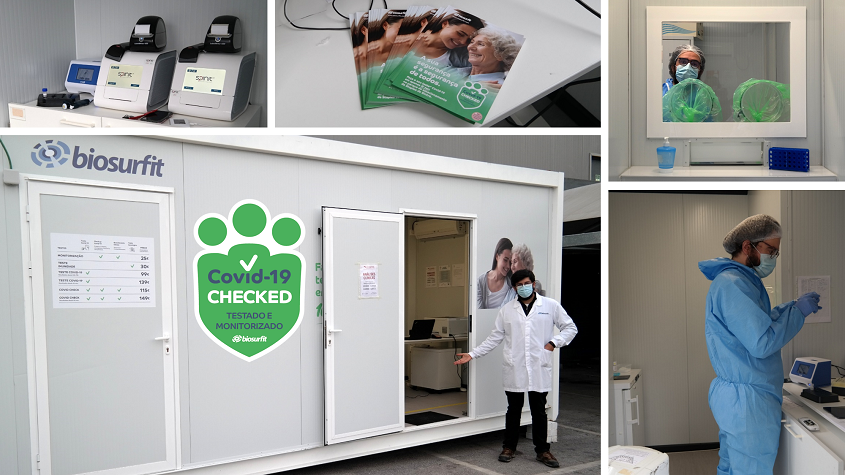 Back
We built the walk-thru stations to be closer to you and your day-to-day routine. You can now perform your Covid-19 health monitoring while shopping for your groceries. In the walk-thru stations, you can perform the diagnostics of Covid-19, immunity evaluation IgM/IgG or an evaluation of your general health:
•
In less than 10 minutes
•
By qualified health professionals
•
With total monitoring of results and decision evaluation via mobile App
Schedule now a covid-19 TEST in our mobile units.
(or dial +351 218 860 169 for more informations)
Location

: Parque de estacionamento do Pingo Doce, Telheiras at Azinhaga Ulmeiros, R. Projectada A, 1700-773 Lisboa



Opening times

: Monday till Sunday from 10am -1pm and 2pm - 7pm




Location

: Parque de estacionamento do Pingo Doce, Corroios, Avenida Dom Afonso Henriques, Parque Luso Lote 134, 2855-721 Corroios



Opening times

: Monday till Sunday from 10am -1pm and 2pm - 7pm




Location

: Parque de estacionamento de Staples Sintra, Estrada Nacional 249 KM 13,5, 2635-046 Rio de Mouro



Opening times

: Tuesday till Sunday from 10am -1pm and 2pm - 7pm



---
Biosurfit S.A. NIPC 507503031 | Registered Office at Rua 25 de Abril, n.º 66, 2050-317 Azambuja

Mobile Unit in Telheiras


Biosurfit SA |NIPC 507503031
ERS registration number: E149072
Address: Parque de estacionamento do Pingo Doce, Telheiras
Azinhaga Ulmeiros, R. Projectada A, 1700-773 Lisboa

Mobile Unit in Corroios


Biosurfit SA | NIPC 507503031
ERS registration number: E150169
Address: Parque de estacionamento do Pingo Doce, Corroios
Avenida Dom Afonso Henriques, Parque Luso Lote 134, 2855-721 Corroios

Mobile Unit in Sintra


Biosurfit SA | NIPC 507503031
ERS registration number: E150170
Address: Parque de estacionamento da Staples, Sintra
Estrada Nacional 249 KM 13,5, 2635-046 Rio de Mouro
---