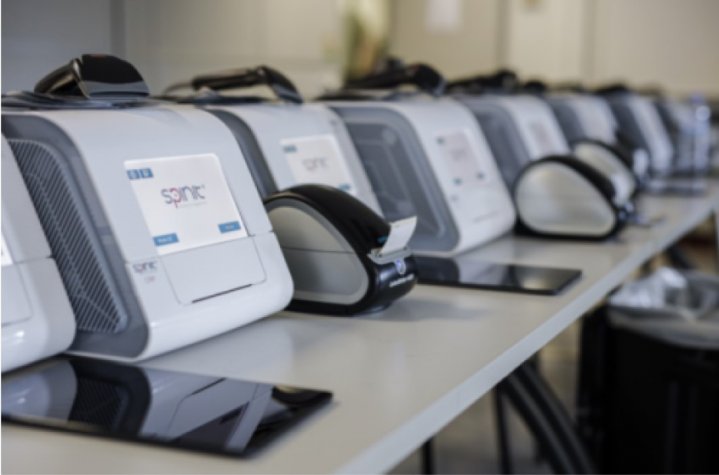 Back
When returning to work, protect your company and employees​. biosurfit has an integrated solution that allows you to screen and follow-up your employee health through time.
the solution for companies
We can go to your company and perform all the tests locally so you don´t have to stop the operations.
Diagnostic of Covid-19 | immunity evaluation IgM/IgG | continuous health evaluation
A solution adapted to your needs
Our tests are performed in less than 10 minutes
By qualified health professionals
with total monitoring of results and decision evaluation via mobile App​
We have different packs for different needs.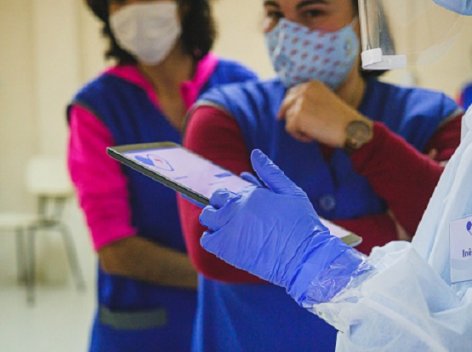 What companies are saying about smart triage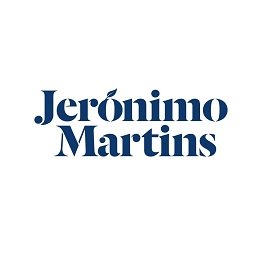 Marta Maia, Chief People Officer
Jerónimo Martins
"The biosurfit Smart Triage is a totally innovative concept that we immediately embraced for the importance and relevance that it has demonstrated in these pandemic times. This intelligent solution allows the monitoring of our employees health, offering confidence and security in the development of our daily activity. We believe that, with this solution, we are contributing to a better risk management and disease prevention. We believe we are innovating to prevent. For our employees, their families and all of us."
Read the
full story
about how Smart Triage has helped Jerónimo Martins in pandemic times.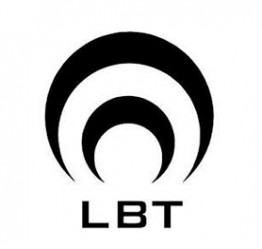 Valentina Garcia, Chief Commercial Officer
LBT
"With the implementation of Smart Triage, it has been possible to make periodic measurements of relevant parameters in the context of Covid-19, generating alerts in cases of significant changes and thus monitoring the health of our employees proactively and in an inteligent way. We maintain the operations and our employees feel calm and satisfied with what the company is doing to keep them safe."
Companies
I want to schedule a service
smart triage
how it works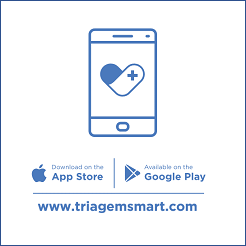 Install the app on mobile phone
01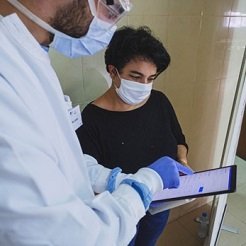 App registration and health questionnaire
02
COVID-19 Diagnostic test
03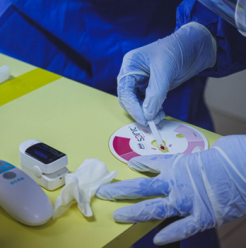 Smart triage tests
04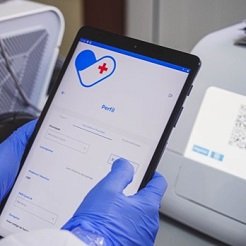 Data integration in the app and results in 10 minutes
05

Biosurfit S.A. NIPC 507503031 | Registered Office at Rua 25 de Abril, n.º 66, 2050-317 Azambuja

Mobile Unit Telheiras


Biosurfit SA | NIPC 507503031
ERS registration number: E149072
Address: Parque de estacionamento do Pingo Doce, Telheiras
Azinhaga Ulmeiros, R. Projectada A, 1700-773 Lisboa

Mobile Unit Corroios


Biosurfit SA | NIPC 507503031
ERS registration number: E150169
Address: Parque de estacionamento do Pingo Doce, Corroios
Avenida Dom Afonso Henriques, Parque Luso Lote 134, 2855-721 Corroios

Mobile Unit Quarteira


Biosurfit SA | NIPC 507503031
ERS registration number: E154448
Address: Pingo Doce Quarteira, Sítio Do Semino,
R. Pernada do Almargem, 8125-000 Quarteira

Azambuja




Biosurfit SA | NIPC 507503031




ERS registration number: E150901




Address: Rua 25 de Abril, n.º 66, 2050-317 Azambuja




Campo Pequeno




Biosurfit SA | NIPC 507503031




ERS registration number: E155469




Address: Centro Comercial do Campo Pequeno




Av. da República, Loja 148, 1000-082 Lisboa